---
CONTRADA OF THE DRAGON - FROM THE PAST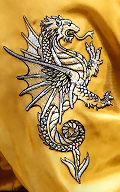 In the Middle Ages, the vast and well-protected castle of the Malavolti family dominated the territory of the military companies of San Donato and Sant'Egidio, where the Contrada of the Dragon originated and developped.
The site on which the basilica and Convent of St. Domenic were built was donated by a Malavolti in the year 1220 to the founder of the order of the Predicatori, who was then in Siena on a visit. The ancient church of Sant'Egidio and the convent of the Capuchin nuns erected at the end of the 16th century was demolished in 1903 to make room for the new post office building in the new called piazza Matteotti. The oratory of St. Catherine had stood in this square, since the heart of the Dragon.
In 1650 during the festivities in honor of the grand dukes of Tuscany a palio was run in which the horses made four laps around the course. The Dragon came out victorious thanks to the skill of jockey, Simone, called Mone.
But the contrada's most famous jockey was the young girl Virginia, who ran for the contrada di Camporegio in 1581; unlucky in the run, she became a legend for her grace and prowess.

back | identity & territory | victories & banners
---