---
IMPERIAL CONTRADA OF THE GIRAFFE - FROM THE PAST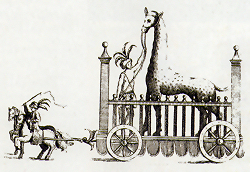 As early as the start of the 15th century, the contrada of the Giraffe participated in the town tournaments. In a procession of 1482, it entered a float representing a giraffe driven by the men of the contrada. But in 1516 the man who had moved the Giraffe's float around the city, their effort and fatigue rewarded by the great amusement of the people, received in homage from the government of the Republic of Siena an entire calf, huge baskets of bread and a cask of wine.
In the heart of the contrada, in what is known as the Provenzano quarte, a large church was erected in the first decade of the 17th century in honor of a miraculous image of the Virgin Mary, called the Madonna of Provenzano. In honor of this Virgin a yearly palio " alla tonda"-that is, the race course ran around the perimeter of the Piazza del Campo- was organized, starting on 2 July 1656.
The tourney became a habitual event for the contrade of Siena, so much so that a second Palio, every 16 August, was organized to prolong the mid-August celebration of the Assunption of the Virgin, the patron saint and queen of Siena.
In 1872 the Contrada founded the Società della Giraffa for the purpose of generating economic support, and for a period, this association was also responsible for the safe keeping of the silken banners won by the contrada. The Giraffe at last obtained additional space from the Opera of Provenzano adjacent the oratory where now we can visit their museum.
back | identity & territory | victories & banners
---