---
CONTRADA OF THE SHE-WOLF - FROM THE PAST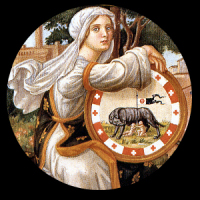 Siena expanded eastward in the 11th century, toward the area divided by Via Francigena .
Since the two quarters that had sprung up at either side of this road were not enclosed by the city walls until the start of the 13th century, their residents founded the Compagnia di San Donato and The Compagnia di San't Andrea for security. In 1302, the town purchased a plot of land in the Valle Rozzi, where it wished to build a fountain, later named the Fonte Nuova. The men of the military companies joined forces on several occasions to participate in the jousts and other civil and religious ceremonies, and so founded the contrada, which chose as its symbol the She-Wolf suckling Romulus and Remus, perhaps in memory of the time when Siena was a Roman colony. The Contrada of the She-Wolf also had its own laical company, in 1519 asked for authorization to construct an oratory where it would meet. The oratory was dedicated to Saint Rock.
In 1743, the incessant altercations between the contrada and the laical company forced the civil magistrate to order the brothers of the Compagnia di San Rocco to host the She-Wolf members foe their meetings and religious functions. In exchange, the contrada contributed three pounds of wax per year and donated all the banners won in the Palii. When the laical companies were suppressed in 1789, the contrada was left without a headquarters.
The palio run on 15 august 1867, anticipating the usual 16 Augustdate by the one day so that Giuseppe Garibaldi could attend. On that occasion, the hero of the "two worlds" gave his photograph, with a handwritten dedication, to the winning jockey; it has been a jealously guarded possession of the contrada ever since.
back | identity & territory | victories & banners
---